We recently were able to confirm that we have a table for our club for the first time in a while at the
Silicon Valley Coral Farmers Market (CFM)
in one week, Jan 22, 2022. We used to be there every CFM, often helping with various jobs like setup and teardown of the whole event, running the raffle for the club and for others, helping at manning the entry door. Now that COVID has reset everything our presence there will be pared way back, we are getting back to basics and will basically just be there as
outreach
- to let people know that BAR exists and some of the benefits of being in the club.
For those of you who haven't been to one before, basically it is like a 1-day mini trade show for reefkeeping, with a focus on vendors selling livestock. They rent out a conference room in a hotel, retailers and manufacturers setup booths around the edges and in the middle, and you wander around looking/learning/buying. Lots of high-end stuff you won't find every day plus some deals. The venue this time is The Domain in Sunnyvale.
We don't have a full booth like the retailers who are there selling, just a table. But that's all we need! Our spot is near the exit which is a pretty good place for seeing everyone as you can see in the pic below. We have a banner for the table and some other stuff, but since this is fairly last-minute it will mostly be about our members at the table just chatting about the club.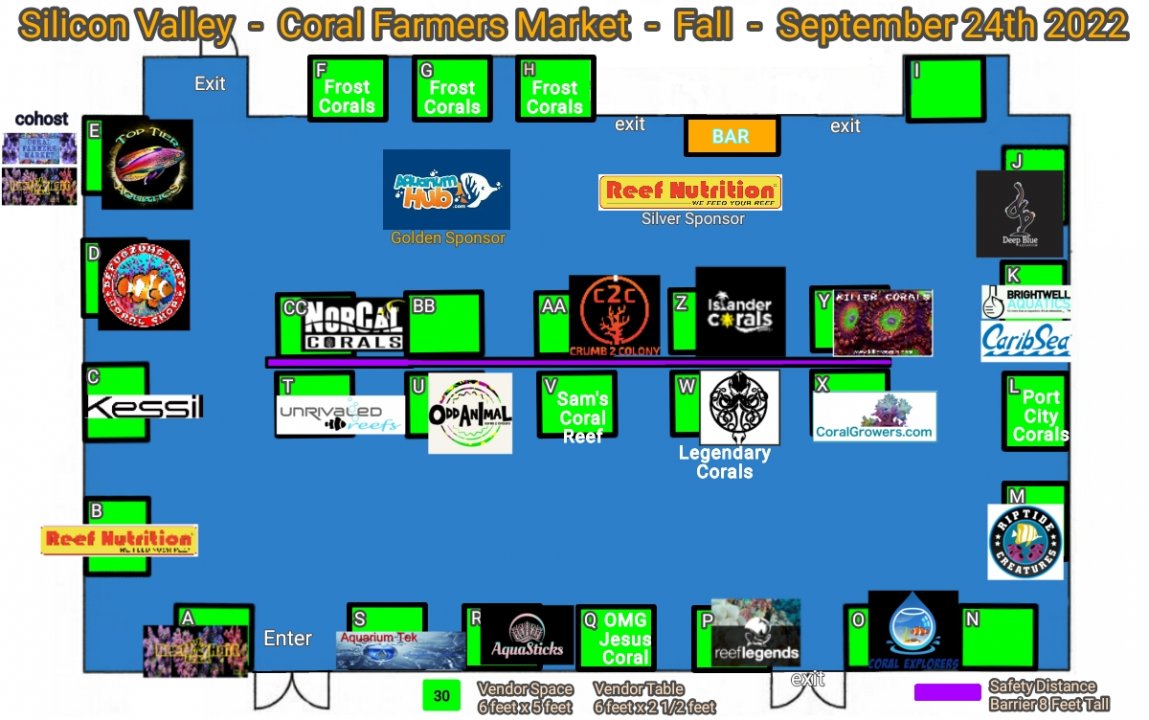 The event organizers do not need our help with setup/teardown or raffles for this one, which takes some pressure off of our volunteers. We will be able to setup Friday and be there for Saturday all day (11a-5p) to just man our table.
We are looking for members who are willing to volunteer to cover 1 or 2 hours of manning the table.
Optimal would be 2 people per time slot, but 1 is ok and if we have no one there for some hours it's not the end of the world. We also need a little help with setup and take-down of our table. The club will pay for volunteer's entry tickets. I'll update the next post with who has volunteered for each spot. It's fine to change, but let us know here so we have some semblance of organization. It's also completely fine to hang out at the table during times you aren't officially covering it. Don't plan to leave valuables or stuff to trade with others at the table since it isn't the volunteer's job to watch your stuff and it may not even be manned for periods of time. I can't make it Saturday but I plan to help setup on Friday. Eric
@Srt4eric
has volunteered to take the lead on organizing this for the club on the day of.
We are also able to
sell entry tickets to BAR members at a discounted rate of $4
for all-day Saturday. It is currently $8 if you buy online and $15 at the door. The organizers haven't told me if we can sell Friday VIP tickets yet, so assume not unless we say otherwise here.
For these discounted tickets and also volunteers I need to give them a list on Thursday so you need to sign up by then.
I'll start another thread about buying the discounted tickets:
We are able to offer discounted tickets for sale to our club members for the upcoming Coral Farmers Market next Saturday. Price for members and their guests is $4 if you pay ahead of time (I have to give them a list Thursday evening) to our PayPal account: paypal@bareefers.org The price right...
Last edited: