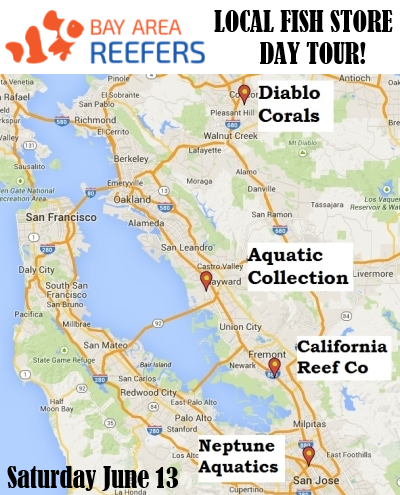 ​
Information:
BAR will be doing a day tour to visit the Local Fish Stores that sponsor the club.

You can do the full tour or just part of it.

We will raffle off multiple giftcards at each store.

"I love doing a store run and visiting all the LFS's to see what new selection they have. Every store is different and will carry unique corals/fish/equipment that the other stores don't have." -EnderTurtle
Schedule:
11:00 - 11:45 Diablo Corals

12:45 - 1:45 Aquatic Collection

2 Raffle Prizes:

FREE PIZZA FOR LUNCH!

2:00 - 2:45 California Reef Co.

2 Raffle Prizes:

10% discount on livestock for BAR members. (MUST show proof of membership)
3:15 - 4:00 Neptune Aquatics

2 Raffle Prizes:

20% discount on livestock for BAR members. (MUST show proof of membership)
Rules
Everybody is welcome to ride with us and visit the stores. (You dont have to be a member)

Join or Leave the tour whenever you want

.
But you must be a Supporting Member to win the Gift Cards.
How will this work?
You have to be there at the scheduled time to win the raffle.
Three things will happen

Some people will want to do the full ride and carpool to all the stores.
Some people will join the LFS tour at a certain time
Some people will only visit their nearest local fish store.

You can join the carpool or ride alone.
If you want to start a carpool for your area, post in this thread.
Membership Benefits for this Event
Eligible to win the $25 gift cards.

Member-only discounts

You must show proof of membership.

A screenshot of your login with "Supporting Membership" will work.
CARPOOL LIST (Starting Locations)
San Francisco

San Mateo

@Enderturtle (1 Seat Available) - Full Tour

Me, Ahruk, Treylane, Fang Blenny

I will have a big styrofoam box with a sharpie for marking the bags if u wish to use my box.

San Jose
East Bay

?
@2manyhobbies (2 Seats Available) - Full Tour - Meet in Oakland.
Stay tuned for updates!
Post here if you're going
Oh! Did ya know we're giving away a Kessil 360WE light? It's in this thread.
Last edited by a moderator: