One day I want to get a coral tank suddenly, the idea just come to my mind. but I searched online, it costs a lot which make me sad.
I bought a second hand reef tank with sands. then I think about how to low the cost. In bay area, we can get sea water easily. I started from there. but when I put the sea water directly into the tank. the water turned into green and smelly, even can't see the sands. I think it's because of the sands. really messed up for this step. But i'm too lazy to dump the water, clean the sands .....
Oyster is the secret weapon. I searched online, there are some videos which introduce how oyster clean sea water efficiently. Got idea from there, I went to 99 ranch market and bought 3 live oysters, put in my "green" tank. It was really surprised me that the water was crystal clean next morning. Awesome oysters!!! they costed a bout 3 dollars. After about a week, I went to beach again, got some turbo snails and hermit crabs. Put them into the really clean tank to test if the water is good, they were pretty happy there.
About a week later I got GSP with a rock for 25 dollars. at that time, I don't know if it's good to put them in because I visited some corals stores, they told me that I need 1-2 months to setup the tank. That really frustrated me. I decided to put the rock and GSP in my tank based on two reasons: 1, everybody says GSP is hardy; 2, the water was cleaned by oysters and tested by snails and hermits, no chemicals was added. this is the video I just put them in.
The result was pretty good even though there are some problems that there are bristle worms and aiptasia hide on the rock. Today is the three months mark for my tank. here it is:
So far, I have not tested anything for the water. still using water directly from ocean. I believe it's very low cost way to setup and maintain a reef tank, so just share it here.
May 4 2021 update:
This afternoon I just noticed some tiny worms on the glass of my tank. Wondering what's that? never see them before. I have three berghia nudibranch in my tank, I'm guessing they are berghia babies? here is the footage. they are so tiny that I used a magnifier to make them a little bigger. let me know if you know what are they, thanks.
May 8 2021 update:
Yesterday I got three zoas frags to my tank.nuclear green palythoas, Scrambled eggs, and utter chaos. utter chaos came from
@Srt4eric
DBTC. So nice to have it. the other two I bought from a young guy for 10 dollars. I feel they are really cheap. at very first glance, I thought they were dead or dying. scrambled eggs closed so tight that looks very tiny. nuclear green was open like umbrella syndrome, and no response to touch. I was upset. but after I put them in in my tank, they just gradually opened, all of them opened. it was amazing. here are some pictures of them.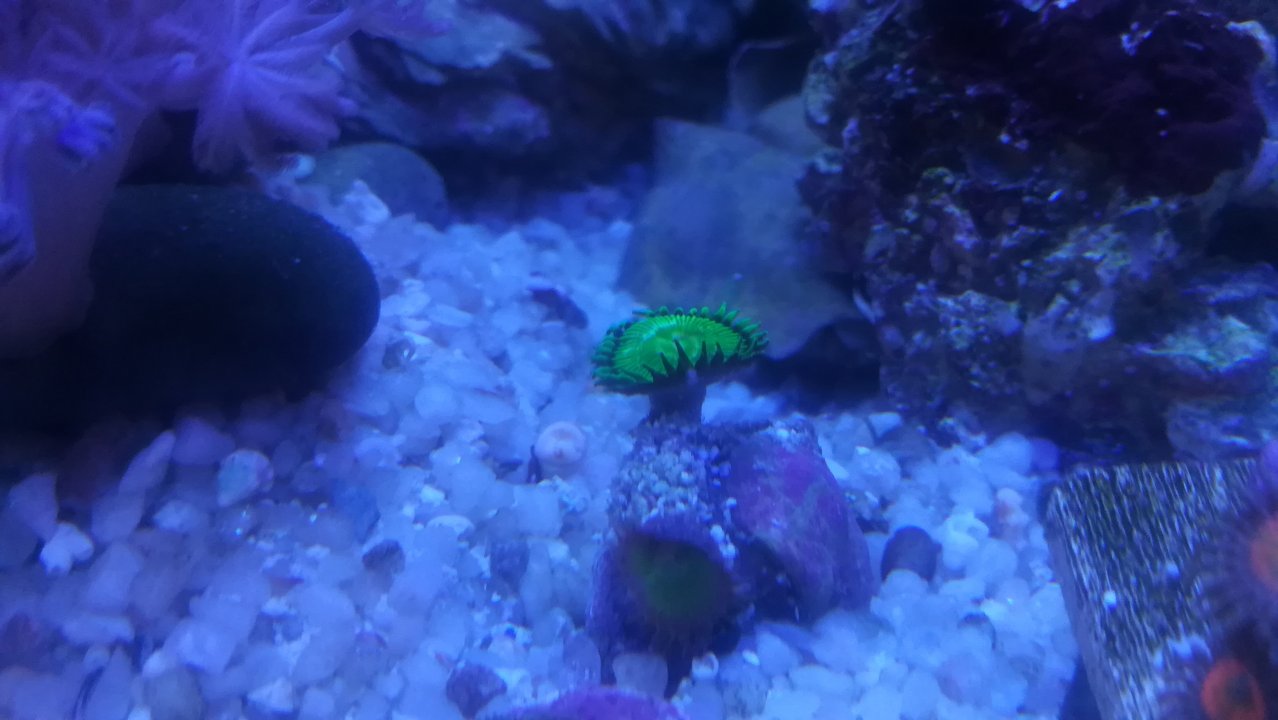 Last edited: