May 31, 2023
I'm back in the hobby after a 17-year hiatus. I am working with several requirements: (1) It has to be a small, tidy nano that fits in an old built-in bookshelf. (2) I hate water changes, and I'm willing to throw money at anything that will reduce them or make them less painful. My hope is that a skimmer will help. (3) I want a clean design that fits with the room (my office). (4) I'd like to try SPS.
Equipment List:
7.5 gal rimless low iron tank
Tunze 9004 DC protein skimmer
Tunze 6020 DC powerhead
Tunze 3155 auto top off
Kessil A360 WE wide angle LED
Kessil Spectral X controller
Cobalt Aquatics Neo-Therm 50w heater
About me:
I had a 12g LPS and softie tank for about 18 months in about 2006. I kept two fish and a shrimp. The tank did well. It was actually overgrown pretty quickly. Towards the end I was having other people care for it and it had an unsightly cyano outbreak, but otherwise it chugged along just fine. I moved away, sold the tank, and dreamed about setting up another one someday.
Tank:
The tank itself is a low iron Mr. Aqua from BRS. It's basically a cubic foot. It's technically a 7.5 gal., but after live rock and all the equipment, it's more like 5.25 gal of water volume. Small.
Lighting, Wiring, and the Tank Space:
The location is a built-in bookshelf above a defunct fireplace in my apartment, a third-floor walkup in downtown Oakland. The built-in imposes several constraints. It's small, there's limited space above, and no space beneath it. I've posted pictures of my solution. For a light, I have a Kessil 360 wide angle on a gooseneck. I replaced the fan with a noctua fan. (FWIW that upgrade was a bit of a pain and required soldering that I'm not sure will last. It is much quieter but a lot of the noise comes from air being pushed out of the housing, so even a dead silent fan won't result in a dead silent light. For me, the lower noise was still worth it.).
My partner, who is a little skeptical of this whole project, hates the mess associated with most aquariums. I wholeheartedly support this – especially since this is not my first tank and I'm at a "it goes in my house, so I want it to be nice" stage of my life.
Tank Background:
All electrical wiring runs through a single surge protector hidden behind the tank. With a 12" cubic tank, there is a 6" space behind it. I put an opaque white vinyl sheet on the tank's rear wall so you can't see the mess. Applying the vinyl was also a bit of a pain and I ended up doing it twice. My tips are: (1) be fanatical about cleaning the glass before you install it, because every speck of dust gets trapped and does weird things with the water and air bubbles and (2) spend the time with a new razor shaving off the edges where your hands go. I found that if there is even a little bit of overhang, it's very very easy to catch your hand on it and peel it back. If a razor at a very flat angle can't catch it, your wrist won't either. The vinyl does not have a perfectly even color. Paint is probably technically the best way to do this, but it's a mess and much harder to change if you don't like it. I'm not totally sure white is the right color considering all aquarium equipment is black, but my partner did not like the big black box in the built-in when I modeled it and I'm interested to see how we like it. So far it's nice. Obviously, everything will be overgrown with purple coralline before too long. The little air bubble imperfections in the vinyl did not bother me – which surprised me – but if you really want an even background, vinyl may not be the solution for you.
Wiring:
I ran all the wiring through a loom for a cleaner look. I searched hard for loom that was not plastic and gross and eventually found a cotton loom. For my ATO and lighting/controller wiring, it was perfect. I used a ½" loom and it was snug. For the ATO I pushed the water tubing through first using a trick from threading car audio wiring in tight spaces (a zip tie taped the wire) because the tubing was a gummier material and did not want slide past the wire. The electrical wire is also stiffer and easier to push. The only visible wires are: (1) one for the surge protector behind the tank, (2) one for the lighting, and (3) one for the ATO. Even with the wiring behind the tank, the loom reduced the number of visible wires from 5 to 3 and gave me more control over their color and appearance. The built-in is a bright white, so I was desperate to avoid a mass of black wires. I finished the ends with white electrical tape. My partner didn't like that look, so I finished that with a wrap of twine, which we liked better. I used a variety of 3M command strips for running string lighting that I was pretty happy with.
The wiring is all hidden behind the opaque vinyl background. That means a lot of things are essentially locked away, especially when the tank is full and heavy. There are 5 mechanical things: the powerhead, lighting, skimmer, ATO, and heater. Each wire has a loop with Velcro holding a bundle of wires. I left enough slack to pull the tank out and pull the controllers towards me. If I need to unplug the device, I can reach the DC plugs on the powerhead, skimmer, and ATO controllers. That way I don't actually have to pull the plug out of the surge protector which is very hard to access. That may be hard to picture, but in short I want enough slack to pull the tank or piece of equipment towards me about a foot, but short enough that it fit in the nest behind the tank.
One thing I quickly learned after having the tank up for a few days was that I needed a little clip to hold the DC power plug while I did maintenance. By hanging the plug in a secure spot, I could always find it again. I dropped it a few times and because the rear of the tank is pretty inaccessible, it was a real pain to fish it out again. A small point, but a useful one, especially for trying to make maintenance as painless as possible.
Filtration:
Because I hate water changes, I got a protein skimmer. I've never had one before and I'm willing to accept that it's not necessary, won't get me out of any water changes, or is even downright harmful. I picked a Tunze 9004 dc, primarily because it is the least hideous in-tank I could find. There's no sump or rear chamber, so it has to sit in the tank. The black monolith is fairly tidy and attractive. Tunze says it's for 15 gal up to 80 gal. This tank is much smaller than that. It's a bit of an experiment to over-skim like this but hopefully it will make maintenance easier and allow me to keep some SPS, which I've also never attempted.
Lighting:
Because of the tank's unique location, I really wanted to use a gooseneck. Kessil LEDs seemed to be the obvious choice. I thought I would do a Kessil 80, but a good deal came up on a 360 wide angle, so I bought it and did the Noctua fan mod. Like all the other equipment on this tank, it's overkill for a tank this small.
Bare Bottom:
I went with a bare bottom tank on the theory that it'll be easier to clean. My last tank had sand and I thought it got kinda grubby and it kicked up a lot of sand during water changes. I used a white closed cell foam pad underneath. Again, the surface is not uniform, but I wasn't bothered by its imperfections. The built-in is not as flat as I expected and does not sit totally flush, but with a tank this small, I don't think it should be an issue, since it's not a lot of force with about 5 gallons of water.
Auto-Top Off:
Because the tank is rimless and small, I wanted to use an ATO. My plan is to use a vase or other decorative vessel as the reservoir for the clean RO water. My first real question is whether a clay vase/pitcher will leach anything or otherwise not work for this purpose. I put in some distilled water in a clay vase and the TDS crept up to 14ppm over the course of a week. That seemed acceptable to me.
Any other solution has to have a mouth wide enough to fit the Tunze ATO pump (~2"). Glass defeats the point because I want to hide the pump. I don't want to put anything on the ground, because my babies or cat will knock them over. If the vessel was sturdy enough and aesthetically nice enough, I would put one on the ground. Again, I used white cotton loom to hide the wires and tubing.
Water Changes:
I'm buying salter water from a LFS in Oakland. Mixing in my apartment seems like a real pain, so I've ruled it out for now. I also live on a third-floor walkup, so I don't want to lug jugs of water any more than I have do. My hope is the skimmer will help.
Occupants:
I don't see getting any fish for a while, if ever. I don't even know what would survive in a tank this small. I'd like a shrimp or something similar to add some life. Because the tank is so small, I'm willing to shell out for a very small number (4-6) of very nice corals.
Things I Used:
Noctua Fan for Kessil 360 12v 60mm fan
While Vinyl Background
Foam Tank Pad
Surge Protector
Techflex Cotton Sleeving 0.5" and 1"
Cotton Sleeve is the perfect sleeving product for improving the appearance of wires and cables. A dense, full coverage sleeve with a soft classic cotton loom feel.
www.cableorganizer.com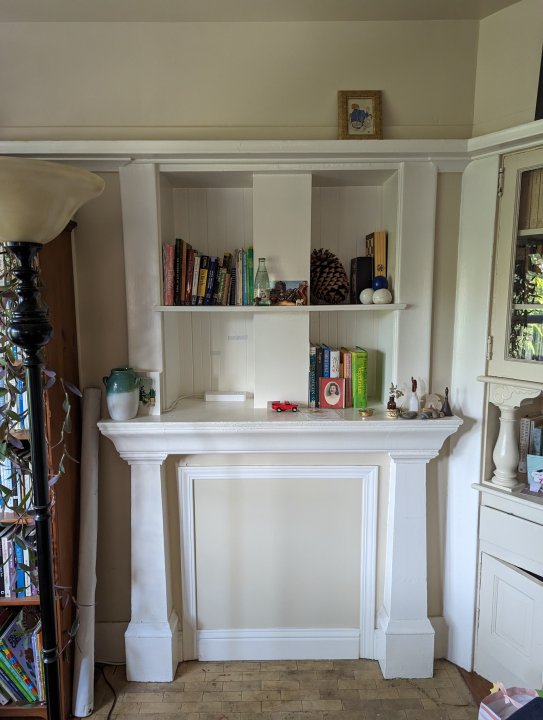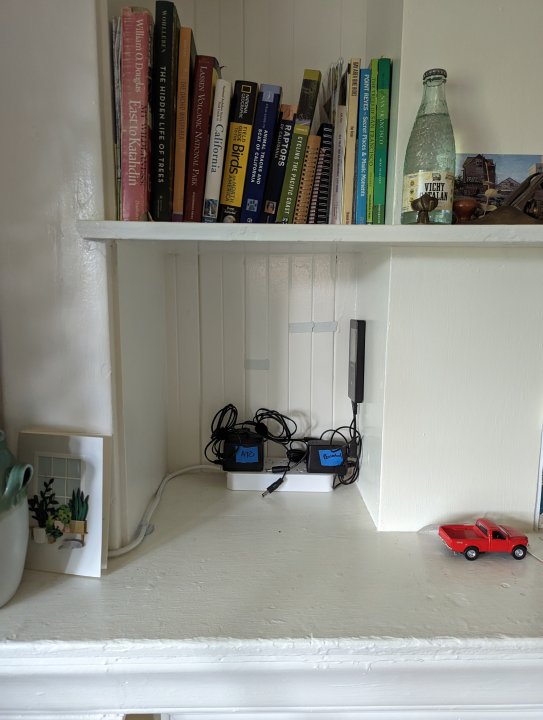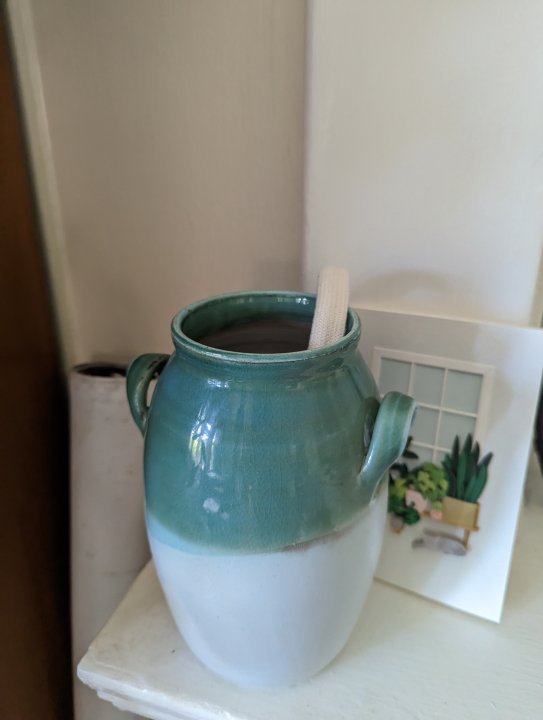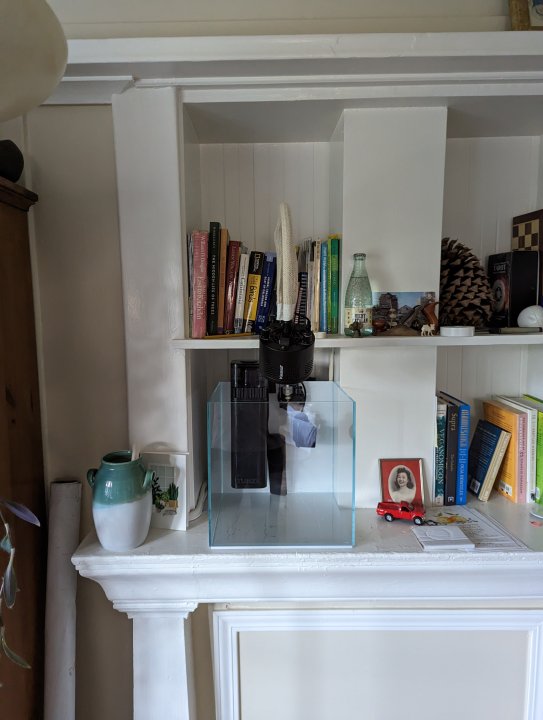 Last edited: