So in December
Rich Ross
, Senior Aquatic Biologist at the Steinhart Aquarium will be coming to us to give a talk! I've heard time and time again he is a prolific and entertaining speaker. We will be having a
potluck
right before the talk so bring your most exquisite dishes.
Every year tons of other clubs and marine societies pay Rich Ross to fly around the country to speak about his research and adventures. We're so lucky to have him right here in the Bay Area!
You are invited to come! Bring something.....food....drinks...plates.....appetite.....humor.....good vibrations, etc!
UPDATE: We will be in Room 758

CALL ME 111-111-1111 if you cant find the room.

It is near the solar panel parking lot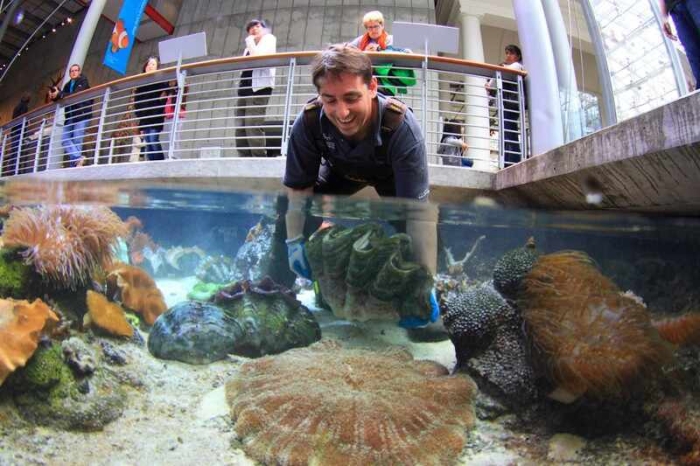 ​
Who Is Rich Ross:
Richard Ross is a Senior Biologist at the Steinhart Aquarium in the California Academy of Sciences where he cultures and cares for exotic cephalopods, fish & coral, participates in ongoing field work on coral spawning, animal collection & transport, and manages tropical saltwater displays including the 212,000 gallon Philippine Coral Reef exhibit.
He is a prolific writer and speaker, authoring academic papers and a catalogue of articles on aquarium and reef related educational topics including his Skeptical Reefkeeping series which focuses on critical thinking, responsibility and ethics of aquarium keeping.
Richard was presented with the MASNA Aquarist of the Year award in 2015, and his work has been covered by mainstream media outlets including Scientific American, National Geographic, Penn¹s Sunday School and Fox News. Richard has kept saltwater animals for over 25 years, and has worked in aquarium maintenance, retail, wholesale and has consulted for a coral farm/fish collecting station in the South Pacific.
He was also a past president of BAR.
Has spoken at almost all MACNA events around the country.
Talk Topic(s)
The Secret of Reefkeeping
Date:

December 12, 2015 (Saturday)

Location:

Chabot College

Room 758 (NEW ROOM)


Time:
11:30am -12:00pm |

Food Preparation/Layout

12:00pm |

Lunch Time!

12:00pm - 2:00pmish |

Rich Ross Talk and Live Q & A
Club membership is not required for this event.
Please post below what you plan on bringing to the potluck so we don't have repeats.
​
Last edited by a moderator: